Sentinel House
Residential program for co-ed youth 13-18 years of age
Sentinel House provides a residential program for co-ed youth 13-18 years of age referred by Ministry of Children and Family Development (MCFD) and Fraser Valley Aboriginal Children and Family Services Society (FVACFSS). The program provides behavioural assessment and emergency residential care.
The vision of Sentinel House is to provide a residential program where youth feel safe, stable and have the ability to achieve their personal goals. We work to treat youth with dignity, respect, fairness, courtesy and compassion in a non-judgemental way. We hope that through empowerment, youth can achieve their goals.
Who We Help
Youth in care who have been referred by MCFD or FVACFSS resource workers
"I really liked the fast food nights, the movie outings and the staff."
Did You Know?
Sentinel House opened in 1989 and Archway has been providing services for youth for over 50 years.
"Staff went above and beyond to ensure success for my youth."
Hours of Operation
24 hours a day
7 days a week
Mailing Address
2420 Montrose Ave
Abbotsford, BC
V2S 3S9
Stories & News from our Youth Programs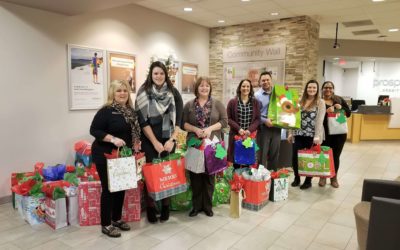 Prospera Credit Union is once again coordinating gifts for disadvantaged youth through the Youth Angel Tree Project. Now in its seventh year, the Youth Angel Tree Project makes wishes come true for local youth. Trees are set up at local Prospera branches featuring...