Basic Life Skills Training
Supporting youth living with mental health challenges
Basic Life Skills Training
 The Langley Basic Life Skills Training (BLT) Program is a safe place for youth (ages 13-21) living with mental health challenges, to meet and build skills through support, education and recreation. We strive to empower youth, promote healing and foster healthy social connections.
Basic Life Skills Training offers:
Individual outreach and group support to youth 13-21
Life skills training for transition, employment and independent living
Communication, conflict, and relationship skill development

Music, arts and recreational activities
Therapeutic Music Program
Since 2011 we have partnered with 1Rock to offer a therapeutic music program in our very own sound room. It provides youth with opportunities to explore music, learn an instrument and be creative.
Arts and recreational activities
We also offer meditative yoga in collaboration with a local yoga studio. Youth are involved in cutting edge music, arts and recreational activities which engage and support them.
Who We Help
Youth 13-21 years old, who reside in Langley.
To Access Basic Life Skills Training
Referrals are made through Langley Child & Youth Mental Health (CYMH) only.
Once a referral is received, staff will give you a call and arrange an initial meeting.
Sometimes the CYMH clinician will bring a youth who potentially will be referred to the program to visit it first.
"You could call this unconventional therapy, you could call this whatever you want. It's life skill training…we can have a conversation about anything… kids come here and they stay because you're helping kids learn how to live."
Did You Know?
The Basic Life Skills Training program began in 1992 and Archway has been providing services for youth since 1969.
"Being involved in the music program I made a lot of new friends which isn't something I'm good at. I've never really saw myself as a people person."
Hours of Operation
Flexible Hours
Monday to Friday
Mailing Address
2420 Montrose
Abbotsford V2S 3S9
Please contact us for the program address in Langley.
Other Resources
Kids Helpline 310-1234
Kids Help Phone 1-800-668-6868
Crisisline 1-877-820-7444
Telecare Crisis Line 852-9099
Suicide Line 1-800-SUICIDE
Ministry of Children and Families & Child and Youth Mental Health 604-870-5880
Youthspace Texting Service
Did you know that if you text Youthspace when you are feeling depressed, anxious or suicidal, a crisis worker will text you back immediately and continue to text with you? Many people don't like talking on the phone and feel more comfortable texting. This is a free service for anyone. Hard days happen. They get it!<
Text Youthspace at 778-783-0177 across Canada.
*available 6pm to midnight daily.*
Stories & News from Youth Services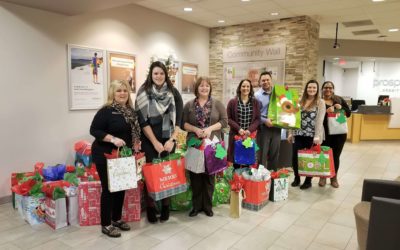 Prospera Credit Union is once again coordinating gifts for disadvantaged youth through the Youth Angel Tree Project. Now in its seventh year, the Youth Angel Tree Project makes wishes come true for local youth. Trees are set up at local Prospera branches featuring...