Supportive Housing - Hearthstone Place
Low-barrier housing that supports those who have been homeless or are at risk of homelessness
Supportive Housing – Hearthstone Place
Opening its doors on March 1st, 2017, Hearthstone Place is a low-barrier housing initiative that supports 20 men and 10 women who have been homeless, or are at risk of homelessness.
Hearthstone operates under the Housing First model which empirically demonstrates that people are more able to work towards personal stability and wellness if they have a home.
Unlike a temporary emergency shelter bed, this program provides individual self-contained suites for an optimal period of between 18 to 24 months. The focus for our residents during this time period is on addressing personal barriers, which may include addiction and/or mental health.
The ultimate goal of Hearthstone Place is empowering our residents towards living as independently and successfully as possible.
Hearthstone Place is operated by Archway Community Services in collaboration with our partners – BC Housing and the City of Abbotsford.
To best meet the unique and dynamic needs of our residents we provide basic in-house support 24/7 as well as referrals, advocacy, and connection to a wide range of community partners.
Eligibility Criteria
19 years and older
Have resided in Abbotsford for at least the past 6 months
Homeless or at risk of homelessness
How to Apply to Hearthstone
Hearthstone Place participates in BC Housing's Coordinated Access and Allocation process.
To be considered for Hearthstone, potential residents must have a completed BC Housing Supportive Housing Registry application and a completed Vulnerability Assessment Tool (VAT).
If you need support in filling out the application or connecting with someone who can administer the VAT, please call Hearthstone at 604-776-5060.
"Hearthstone Place is a beautiful place to live. I've never really felt like I've belonged, but I am starting to believe that, in time, I will belong here."
Did You Know?
While Hearthstone opened in 2017, Archway has been serving the community for over 50 years.
"Without this place I would not still be here. Hearthstone staff encouraged me to go to the hospital when I didn't want to and that saved my life."
Hours of Operation
24 hours a day
7 days a week
Address
Hearthstone Place
2719 Gladys Avenue
Abbotsford V2S 3X9
Emergency Shelters
Year round temporary shelter beds are offered at:
Salvation Army: (604) 852-9305
Lookout Society Riverside Shelter: (604) 744-1538
Cyrus Centre (under 19 years of age): (604) 859-5773
FAQs
Q: Does Hearthstone Place allow pets?
A: No, at this time Hearthstone Place is a pet-free building.
Stories & News from Supportive Housing & Homelessness Prevention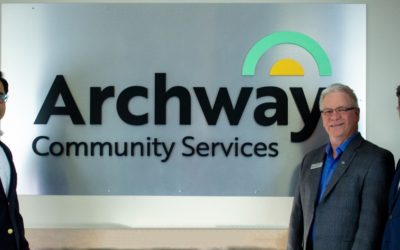 Abbotsford Community Services Changes Name to Archway Community Services We're excited to announce that Abbotsford Community Services will now be known as Archway Community Services! This change will be more inclusive for the clients we serve beyond Abbotsford and...