New Beginnings Young Parent Program
Part-time and full-time programs for young parents to complete or upgrade their high school education
New Beginnings Young Parent Program
During COVID-19, New Beginnings childcare is operating with extended hours from 7:30am – 4:00pm.
Please contact us for details.
Since 1990, Abbotsford's New Beginnings has been known as a leader in working with young mothers and fathers.
We provide part-time and full-time programs for young parents to complete or upgrade their high school education as well as high quality childcare, parenting courses, and individual support.
New Beginnings offers:
Academic classroom for young mothers and fathers
On-site daycare (licensed care for children aged under 36 months)
Parenting classes and support
Individualized help
Community Education about Adolescent Sexuality (CEAS) presentations
Programs for community fathers with children aged 0 – 6 years old
Who We Help
Parents who wish to complete or upgrade their Grade 12 education and are either pregnant or parenting a child under 3 years
To Access New Beginnings
Please give us a call if you are interested in attending New Beginnings.
Registration runs from August 28th – September 8th.
New Beginnings Website
For more information please visit the program website.
Did You Know?
The New Beginnings program began in 1990.
"I've gained some important skills and improved myself and my parenting. I've made a few friends and worked hard on my academic goals to achieve them."
Office Hours
9:00am – 3:00pm
Monday – Thursday
Assessment appointments can be scheduled for evenings & weekends
Address
Archway Community Services
102-31943 South Fraser Way
Abbotsford, BC V2T 1V5
Stories & News from the Family & Children Programs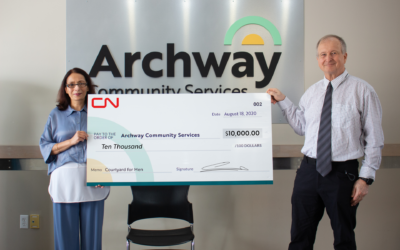 A $10,000 grant from CN will fund a domestic violence prevention program specifically geared towards Punjabi-speaking immigrant men. Courtyard for Men offers eight psychoeducational therapy group sessions in Punjabi with licensed counsellors who teach effective...