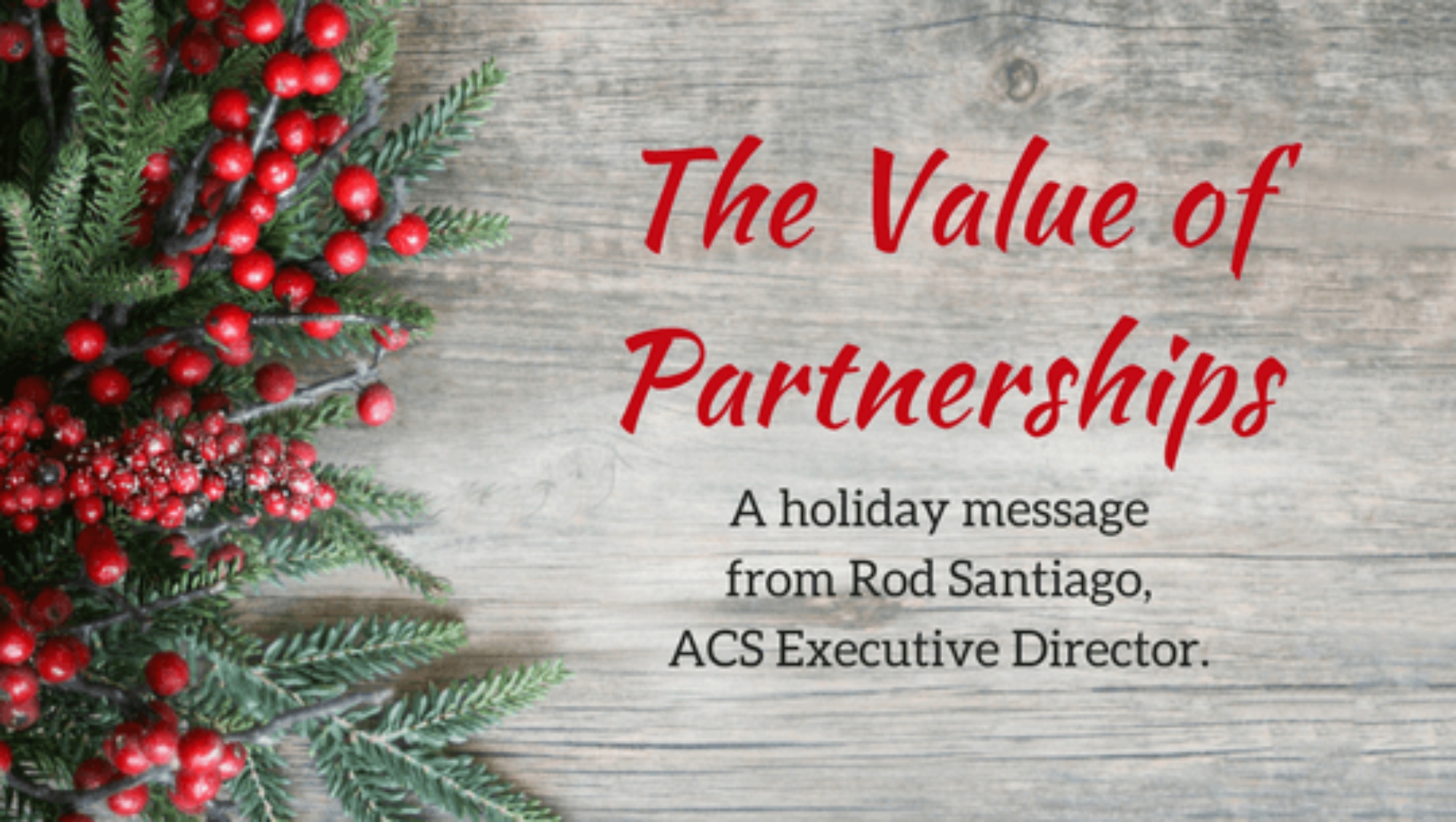 As 2017 draws to a close, I wanted to say a heartfelt "thank you" to you for your support of Abbotsford Community Services. Upon reflecting on all the events of the past year, the word that keeps coming to mind is "partnership."
Being able to serve over 40,000 people annually can only be possible through partnerships; from our partnering with community members who donate time, money and expertise, to our collaborations with other agencies, businesses, levels of governments and of course within our own programs. Finally, at the very heart of each client's success story is their commitment to a partnership with ACS.
Clients often need multiple supports and we're able to build on our existing partnerships to refer people to additional programs as needed. We know that each of our 90+ programs is exponentially stronger when we partner together to meet essential community needs.
As we reflect on what we've partnered to accomplish in 2017 and move closer to the new year, I look forward to strengthening all these valuable relationships.
Selected New and Notable Partnerships:

In It Together– A proactive approach to reducing youth involvement in gangs in association with the Abbotsford School District, Abbotsford Police, and the John Howard Society.
Foundry Comprehensive health and social services for youth in one central location with 14 partnering agencies including Fraser Health, Ministry of Children and Family Development, Impact, Abbotsford School District, Ministry of Social Development and Poverty Reduction, and Division of Family Practice.
Opioid Agonistic Treatment Centre – Our partnership with Fraser Health will address the growing opioid crisis with evidence-based treatment, counseling, and referrals.
Hearthstone Place – Along with BC Housing and the City of Abbotsford, this low-barrier residence provides individuals living on the street with a safe and supported environment to address their issues such as addictions, mental health or ongoing trauma.
Syrian Refugees – We continue to support refugees through English classes, job training, settlement workers in schools and prenatal education. The support has been provided alongside the School District, the BC Muslim Association, and MCC among others. 
Women Exiting Abuse Violence and Exploitation (WEAVE) – Assists women in Abbotsford to exit the sex trade by providing safe housing, outreach support, trauma-informed counseling, and employment alternatives. In partnership with SARA for Women as led by the Elizabeth Fry Society.